Celebrating Your Graduation in the Midst of COVID-19: Decorative Graphic Items and More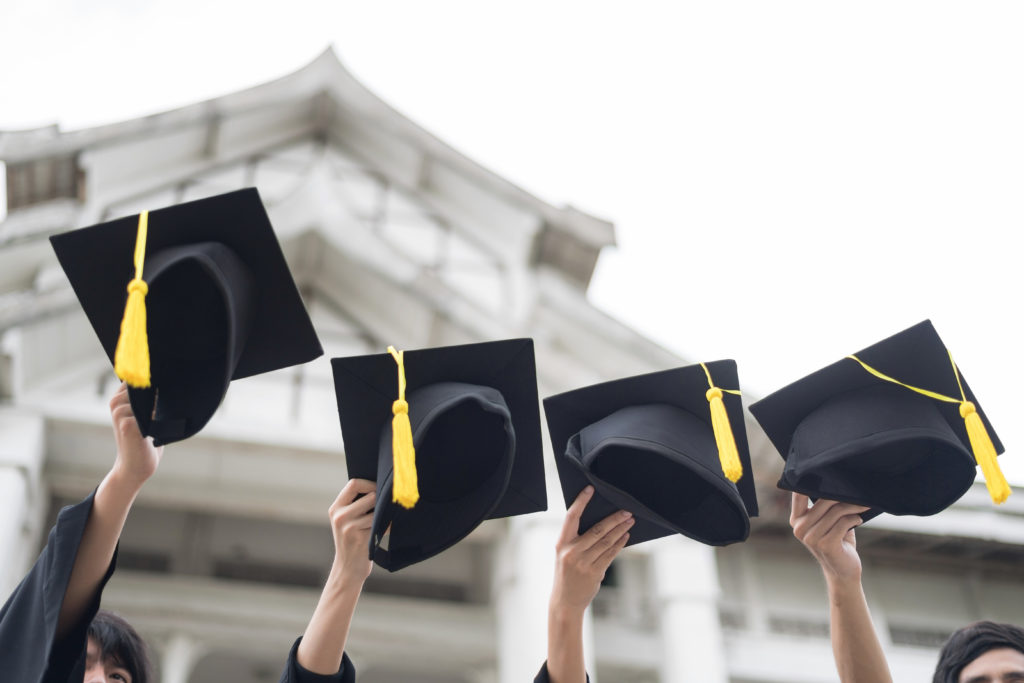 With COVID-19 in the air, many schools and educational institutions have had to move their courses to be done online. Unfortunately, that includes graduation. If you're graduating by the end of this semester, you can still make the most out of your celebration. Universal Graphics is here to accommodate students and families of their soon-to-be graduates by offering graphics such as banners, stickers, and signs! Much like our other graphic and printed products, the professionals at Universal Graphics incorporate top-shelf materials and utilize advanced graphics tools to get you the prints you need. Your graduation is our priority this season. We touch on how our graduation items can help you kick up it a notch during this celebratory time. 
Banners: Make Your Graduation as Bold as Possible
If you want to show the world how proud you are of your graduation, custom banners are the ideal item to do so. With hand-made and unique custom designs, we can guarantee you'll be beyond satisfied with our end products. Custom banners are perfect for outdoor events, shows, and much more. However you plan to celebrate your graduation, a banner can help. 
Custom banners at Universal Graphics are made with the highest quality of fade-resistant vinyl. Your name, achievements, and images will pop with color and advanced printing! If you're having trouble coming up with graphics you want to see on your banner, you can pass along your images and texts you have in mind and we can draft up some prints from there. Your graduation is all about you. Therefore, we make sure that our banners reflect exactly that.
Stickers: Carry Your Achievements With You
Stickers are a fun item for any event or promotion. Even better, we offer them to take your graduation celebration to the next step! When it comes to printing stickers, we can make create them of any size, shape, color, and text you initially imagine them to have. We can also incorporate simple textures to add a fancy touch! Graduation stickers are perfect for invitations and letters, party favors, party decorations, and so much more. What makes stickers a perfect item to celebrate your graduation is that you can carry them with you anywhere and everywhere and don them just the same!
Signs: Announce Your Celebration to the World 
Our graduation signs are typically made to be cast on your front or back yard. However, you can use them to your advantage! Similar to our banner, signs are made with high-performing and long-lasting material to keep your celebratory announcement standing mighty and high. With a simple "Congrats, Grad!" or "Class of 2020", taking your honor to the next level is possible with us. Whatever dimensions, colors, images, or graphics you may have, you can pass them along to us that way we can create the exact depiction you have in mind. Shout how proud you are of this special time in your life with grade-a graphics and prints of all kinds!
Are You in a Creative Block? We Can Assist!
If you've never been keen on creations, we can help you all the same. Our graduation prints and design often have the name of the graduate, the school, the year of graduation, and the degree that will be granted. Oftentimes, the name of the degree is spelled out, but our custom designs allow families and students to manifest whatever it is that they would be most pleased with. Many students also aim to have professional pictures taken so that those can be used on their printed items as well. If you want to go for a masterly or more playful look, we are your best choice! We are flexible when it comes down to making designs of all themes. If you want to gain the most out of your graduation announcements, Universal Graphics is your best choice! 
Choose Universal Graphics for the Perfect Graduation Celebration
Sometimes, it's the little things that make an event so memorable and special. When you walk into your graduation party surrounded by celebratory prints and graphics, you can expect to experience a commemoration of a lifetime! The team at Universal Graphics is proud to be able to serve customers, even during these trying times. Contact us today to learn more about how we can assist you.
Like this content? Share it here!