Graduation Products | Celebrating Your Milestones With Our Design Expertise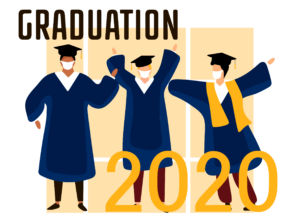 Whether you have completed your high school or collegiate-level education, your graduation is a big deal. Universal Graphics is proud to offer graduation graphics and design services to enhance your celebratory experience! Whether you want to adorn your car with window decals or spread the news with large-scale signs, we can provide. We offer a variety of graphics and products for you to choose from. When you come to Universal Graphics, you have options unlike any other. Allow us to add a dash of excitement with our graduation design products!
The Products and Graphic Services We Offer
If your graduation is significant to you, then it's just the same for us. We offer plenty of graphic services and printed products to liven up the event. The products we offer include:
Yard signs
We have the materials needed to create signs for you to place all over your home, including your front yard! Our signs are made with the finest choice of inks and graphics possible. 
Banners
Banners are ideal for graduations of all kinds. We can create these banners with the measurements you have in mind and draft up ideas to narrow down exactly what you want. 
Window decals
You can take the celebration everywhere you go with our window decal products! These window decals can be applied to any vehicle make or model. We can also make these in accordance with the measurements, designs, colors, and text that you may have in mind. 
How Universal Graphics Can Provide You with Flawless Products
When you come to Universal Graphics, you can confide in us. Our team works to the very best of our ability to provide you with an end product that you'll be beyond satisfied with. First, we will create drafts and maintain consistent communication with our customers to ensure that we are creating the exact ideas they had in mind. We continue the process by implementing the most beautiful methods of design, colors, and materials. Our printed products are made with the highest quality of materials and are known for their durability and valuable look. Make your graduation and celebratory event stand out with our banners, decals, signs, and more! 
Get In Touch with Universal Graphics Today
If you want to get ahead of time and prepare your graduation graphics now, then Universal Graphics is ready to step in to help. Contact us so we can discuss your ideas and initiate the creative process of your items, today!