2022 Graphic Design Trends for El Paso Graduation Parties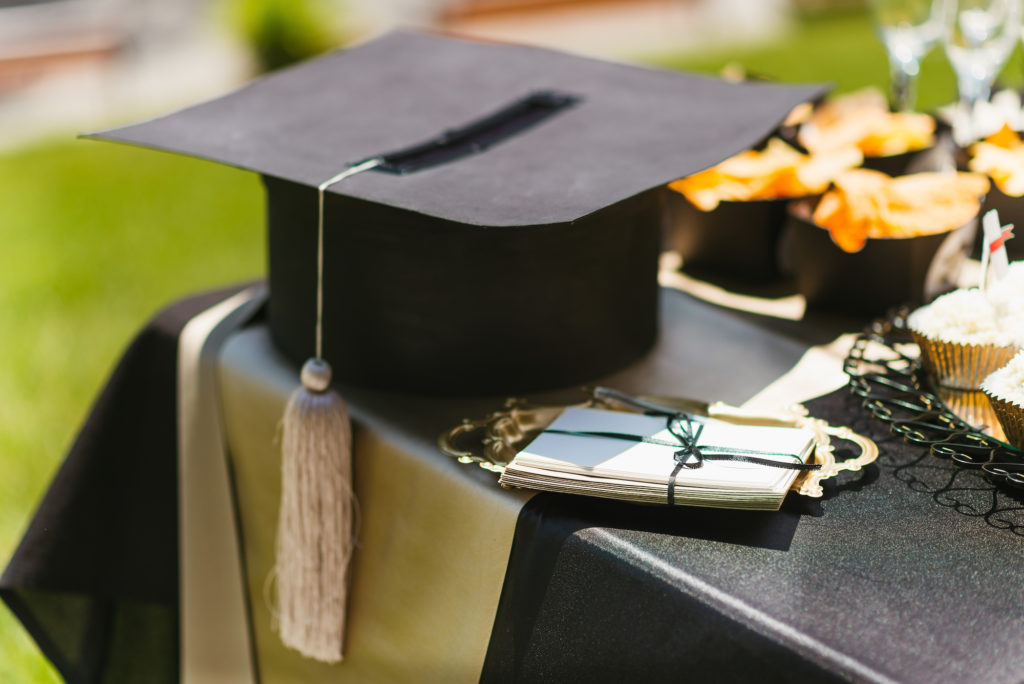 Graduations are a significant milestone for young people. The occasion marks a major accomplishment for students who have put in the work to receive their diploma—whether it's high school, college, or graduate school. The event celebrates hard work and marks the end of a journey and the beginning of another. It is this significance that people like to take the time to mark the occasion with special plans, decorations, custom invites, personalized yard signs, and more.
So how do you go above and beyond and get printed materials that do justice to the joy of the occasion? 
We have a few ideas. 
Need print materials in El Paso? We are a locally-owned print shop in The Sun City. Call us today. 
The Tradition of Graduation Ceremonies and Marking the Occasion 
Graduation ceremonies have been a part of educational achievements since the early Universities in Europe. 
In the early 20th century, graduation ceremonies looked very different than they look today. Instead of large crowded graduations, these ceremonies were much quieter and focused on the invocation and the benediction. 
According to research, senior activities have also changed somewhat from the past. Whereas 90% of schools had a senior play in the early 20th century, that is not a commonplace tradition today. Other senior activities included the senior picnic. 
In the 21st century, graduation ceremonies look a lot different than they did. Technology certainly plays a role in the way that these ceremonies are held, but also cultural changes have modified the way people organize the events. Today, the graduations have long ceremonies with a commencement speech, choirs, benedictions, speeches, and each graduate stepping up to a podium to pick up a diploma. Afterward, many families have their own graduation parties in their homes with unique decorations.  
Beautiful Eye-Catching Ideas for Your Graduation Party 
So whether it's a high school or college graduation, you have an opportunity to make the day special for your loved one by implementing some fun and commemorating print materials. Here are a couple of ideas. 
Graduation Announcements
The fun begins with announcing to friends and family the graduation of your loved one. Options are abundant when it comes to creating your graduation announcements. These announcements are usually sent out via mail and can implement a variety of paper sizes, paper stock, finishing options, color, or black and white printing. 
The right combination of paper stock, color, and design, will ensure that your graduation announcements stand out among the rest. Graduation announcements will usually contain certain information such as a student's full name, graduation year, name of school or program, major, or degree. 
Unique Postcards
If you want to keep things a little simpler, but give your announcements or invitations a special touch, consider graduation postcards. These are also called direct mail printing because they do not require an envelope, which helps save a little time and money. The envelope adds more material and a certain amount of formality, but some graduates want to keep things casual and go a different route. 
The postcards eliminate the need for that added expense for the envelope. Postcard printing has become quite popular as a graduation memento. You have different options such as coated stocks and UV coatings, along with color or black and white printing. If you want to use your postcards as an invitation, remember to include the date, time, special instructions, or directions to the event, as well as any other necessary details. 
Invitations 
If you want to keep things classic and traditional, you can't go wrong with graduation invitations, specially designed to serve as a formal invitation to your friends and family to the celebration. 
Outdoor Decorations
If you're bringing the party back to your house after the ceremony, what better way to infuse the atmosphere with the celebratory spirit than outdoor decorations. These Outdoor honors come in different shapes and sizes. Yard signs can be custom-made to fit the front yard, side of the home, or backyard. 
Print outdoor honors such as weather-resistant corrugated plastic, full-color printing, UV-resistant ink, and much more. These outdoor decorations can help set the atmosphere at your home. Graduation signs can be printed in the shape of a graduation cap, a diploma, or other custom shapes. 
Common text ideas for graduation yard signs include:
"Congrats Grad" (with photo included)

"Class of 2022 – Congrats Grad" (insert graduation year)

"Goodbye High School, Hello College"

"Congratulations Graduate!" 
Get Your Print Materials & Mark Your Special Occasion With Style 
Find the perfect printing materials for your special occasion. Whether it's a graduation, a wedding, or a baby shower, well-designed and custom-made print material will take the event to the next level. Our print specialists focus on print marketing and unique designs for businesses or personal occasions such as graduations in El Paso, TX. 
Stand out. Leave an Impression. Celebrate with style with Universal Graphics print materials. 
Want to learn more about our custom-made printing materials? Call Universal Graphics today.