The Lasting Legacy of Print Advertisement: 4 Examples of Print Media that Will Blow You Away
Today's talk is all about digital advertising, but it is its predecessor that still dominates in the world of making a splash. Print advertising has not lost its ability to inspire. It has been around for generations and still holds dominance in its ability to make an imprint in the memory. It can be considered that early print advertising included Thomas Paine's printing of Common Sense, which helped spark enthusiasm for the Revolutionary War. Yet, as businesses try to compete in a fierce and competitive marketplace, they're looking for ways to stand out, make a statement, and represent their brand. So, for inspiration, if you're wondering about how to use the power of print to reach new customers, check out these memorable print campaigns. 
Let's see how these print materials have contributed to the print advertising legacy.
Print Media in Its Infancy & How It Changed the World 
Ok, this post wouldn't be complete with a brief foray into the fascinating history that is print, although, of course, we can't cover the wide breadth of events in one quick recap, let's give it a shot. 
The invention of the printing press revolutionized the world. There's no doubt about it. Some argue that without the printing press world history would look very different. The first major impact that kickstarted the modern world began with the printing of the Bible. In this way, people learned to read the Word of God and interpret for themselves the wisdom that lay within those pages. Access to God's Word was no longer reserved for the elite or a select few. As Martin Luther exclaimed, "Printing is the ultimate gift of God and the greatest one." 
Second was the Italian Renaissance, which printed works by intellectual giants like Aristotle and Cicero, reviving the philosophical and democratic knowledge of the ancient Greeks and Romans. The artistic and cultural movement spread and revolutionized Europe, spearheading a movement of art, creation, and philosophical studies. 
Third was the ability to print, share, and collect scientific data and information. Francis Bacon, often credited as the father of the scientific method, exalted the impact of the printing press as one of the revolutionary inventions that helped the spread of scientific advancement and knowledge. 
Print Advertisement Campaigns that Left a Mark 
Print advertisement comes in many forms, from pamphlets to brochures to leaflet propaganda dropped from Allied planes in the midst of World War II. The purpose of all of these materials varies but hinges on the same idea: the spread of information or a message. 
So, what are some recent examples of eyebrow-raising thought-provoking printing campaigns? 
The KFC We "FCK" Up Campaign
There is nothing worse than a nationwide chicken restaurant chain running out of chicken. Talk about disaster! Well, this happened to KFC in the UK in 2018. The chain ran into major issues with a new supplier and was unable to fill their chicken demand, which meant that hundreds of restaurants across the country had to shut down because of this blunder. KFC printed a well-designed and clever apology that showed the famous KFC chicken bucket with the letters, "FCK." There's nothing better than a business taking responsibility and accepting its mistakes. The print campaign went viral and drew the laughs and cheers of hundreds of its aficionados across the country who gladly returned to buy chicken the next week.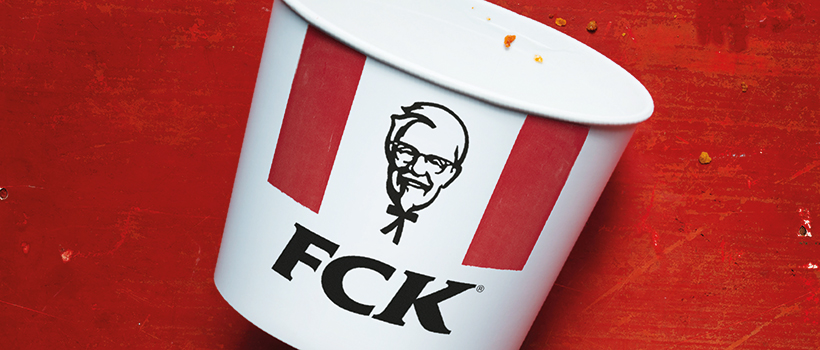 Source: https://www.campaignlive.co.uk/article/kfc-fcking-clever-campaign/1498912
The Blazing Burger King Ad 
Aside from its famous Whopper, Burger King is known for its occasional restaurant fires. The fast food chain decided to make fun of themselves a little bit and print an advertisement that showed an actual photograph of firefighting fighting a blaze and one of the infamous Burger King fires. Why? They wanted to remind everybody that they had a sense of humor but also that their burgers are never fried in oil, only charbroiled. It's part of what sets Burger King apart and this print advertisement simply drove the point home with an added bonus of self-inflicted humor. Can't go wrong with that. 
So what lessons did we learn from these two examples? 
Don't be afraid to poke fun at yourself 

Humor is a powerful advertising technique 

Taking responsibility for errors can gain the trust of your consumers and customers 

Clever messaging makes an impact and is memorable 

Graphic design

is at the center of powerful messaging
And Who Said Print and Digital Can't Interact? 
Advertisers and large companies are learning ways to have the beauty and irreplaceable tangible nature of print advertisement with the digital world. From printing QR codes that lead people to promotional landing pages to more creative print/digital interactions, print advertising is back on the rise. Take these two examples for instance:
Car giant Volkswagen prints a foldable three-page spread that can be used as a way to 'test drive' their new model. The spread is placed on a flat surface and readers download an app that allows them to try out different features and use their phone as the 'vehicle' and the print ad as the 'track.' You run your phone through these printed tracks.  This way,  people get a sense of what their new car model looks like inside and feels like on the road. 

Nivea skin products make a bold statement with their sunscreen print advertisement. The company printed an ad that contained a mini solar panel, powerful enough to charge a phone a few times. 
Print Advertisement Allows for Endless Possibilities of Creativity— Make a Splash with Your Messaging 
Universal Graphics has been immersed in the world of print for more than thirty years. We have grown with and learned about advertising's power to help businesses flourish, spread the word, and define their brand. 
Want to learn more? Call Universal Graphics today. We're a family-owned business ready to help you grow.